Upcoming Services
(Sep 04, 1927 - Mar 17, 2019)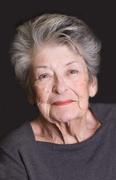 Margaret "Margo" Allene (Bell) Schneider, 91, of Greentop, Missouri, passed away Sunday, March 17, 2019 at her home surrounded by her family, under Hospice care.
Born September 4, 1927 in Kirksville, Missouri, Margaret was the daughter of the late William Milton and Flora Isabel (Stone) Bell. On September 23, 1972 in Quincy, Illinois, Margaret was united in marriage to Marvin Dempsey Schneider who preceded her in death on March 6, 1999. She was also preceded in death by her parents and her step-daughter, Mary McSparren.
Margo is survived by three sons and two daughters-in-law, Edwin (Cheryl) Miller III of Columbia, MO, Gregory Miller of Kirksville, MO, Shawn (Shannon) Miller of Dallas, GA; one daughter, Michelle Dixon of Greentop, MO; step children, Terry (Debbie) Schneider, Jeff Schneider, and Rick (Tammy) Schneider; one sister, Bonnie Bowzer of Macon, MO; eight grandchildren, Jack (Karin) Miller, Brian Miller, Michael (Jaime) Miller, Shelby Miller, Shane ...
Recent Services