Upcoming Services
(Mar 19, 1947 - Nov 15, 2018)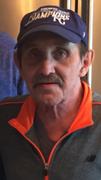 John D. Munn, born in Kirksville, MO on March 19, 1947 and passed away peacefully on 15 November 2018. John's parents were John M. and Leilah Munn who preceded him in death.
John D. grew up in the halcyon days of Kirksville and married the beautiful Phyllis Harmon in 1965 and to this union one dynamic son, John P. was born. John D. is survived by his son, his angelic sister, Kathy who provided his warm and palliative care in his passing; his brother Larry Smith, Uncle Gerald Smith, nephews Justin Conkin, Joshua Schonert and several cousins.

John D. was a lifelong resident of Kirksville and as a craftsman, operated Munn's Upholstery for many years. John enjoyed and excelled at coaching little league baseball and was an encyclopedia of baseball rules and statistics. He was a perennial optimist through thick and thin for the KC Royals while living ...
(Feb 06, 1923 - Aug 12, 2018)
Billy Francis White, 95, of Kirksville, Missouri, passed away Sunday, August 12, 2018 at the LaPlata Nursing Home in LaPlata, Missouri.
Born February 6, 1923 in Queen City, Missouri, Billy was the son of the late Allen Francis and Freda Delores (Young) White. Billy was united in marriage to Annabelle Buchanan on August 19, 1945 in Atlanta, Missouri.
Billy is survived by his wife, Annabelle of seventy-three years on the 19th of August; two sons and a daughter-in-law, David White of Eagleville, MO, and DeWayne and Karen White of Quincy, IL; one sister Dona Truitt of Bloomfield, IA; four grandchildren, Jessica (Aaron) Dominowski, Nicole White, Christal (Rob) Carter and Nathon White; seven great-grandchildren; one great-great grandchild; brother-in-law and sister-in-law, Hal and Martha Ross of Yorba Linda, CA; and several nieces and nephews.
Billy was preceded in death by his parents and one sister, Geneva White.
Billy was a graduate from ...
Recent Services