Upcoming Services
(Oct 08, 1990 - Mar 10, 2018)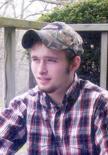 David Paul Shaver born October 8, 1990 and left this world March 9, 2018. David leaves behind his mother, Cyndi (Junior) Morrow, father Joseph Paul Shaver, one brother, Charley W. LaCost all of Kirksville, Missouri. David had a large extended family of several aunts, uncles, numerous cousins, nieces and nephews. Grandparents William Shaver, and Evertt and Beverly LaCost of Kirksville. He was preceded in death by grandmother, Doris Shaver, uncle Stanley Shaver and several cousins.
David enjoyed soccer and baseball playing on several traveling teams. David went through the scouting program from Cub Scout to Eagle Scout. David worked for various employers since his graduation from high school in 2009. David was in his glory when in the woods listening to nature or walking a stream looking for special rocks and Indian stuff.
Few people really got to get close to David; if you did you found a compassionate, thoughtful ...
Recent Services