Upcoming Services
(Jan 30, 1950 - Oct 16, 2019)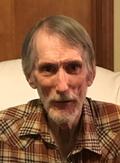 Buddy Leo Ambrosia, of rural Adair County, passed away Wednesday evening, October 16th, at the Harry S Truman Memorial Veterans Hospital in Columbia, Missouri, following a lengthy illness. He was 69 years old.
The son of Leo P. and Annalu (Erwin) Ambrosia, Buddy was born January 30, 1950, in Kirksville, Missouri. He was educated at Oak Grove and Willmathsville rural schools, Kirksville High School, and Brashear High School, where he graduated in 1968. Buddy was inducted into the United States Army in 1969, serving a tour of duty in Vietnam. Upon returning home, Buddy engaged in raising cattle with his father and brother, and later, his nephew. During this time he also worked at the Edina Livestock Market and Ambrosia Plumbing, until his retirement in 2009.
Buddy was united in marriage to DeAnna Munden from 1972 - 1993 and to this union, one daughter was born.
Buddy was preceded in death ...
(Jul 12, 1935 - Oct 11, 2019)
Catherine L. "Katie" Spangler, 84, of Kirksville, Missouri passed away Friday, October 11, 2019 at The Pines in Kirksville.
Born July 12, 1935 in Green City, Missouri, Katie was the daughter of the late Winnie Rayburn and Mildred Katherine (Boehringer) Lintner. On November 6, 1955 in Kirksville, Missouri, Katie was united in marriage to Dwayne Spangler who preceded her in death on July 27, 2019 after sixty-three years of marriage. She was also preceded in death by two sons, Michael and Mark Spangler and one brother, David Lintner.
Katie is survived by her daughter and son-in-law, Donna Sue and Jerry Hill of Kansas City, MO; three grandchildren, Kyle (Stephanie) Hill of Sedalia, MO, Jeffrey Hill of Olathe, KS, and Katelin (Aaron) Smith of Kansas City, MO; two great-grandchildren, Michaela and Adalyn Smith, as well as three nieces, seven great nieces and nephews, and four great-great nieces and nephews.
Katie was ...
Recent Services